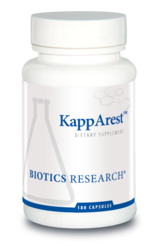 KappArest
SKU 7855
Product Details
KappArest 180 capsules
A proprietary formula, including numerous antioxidant and phytonutrients, designed to provide support to inflammatory pathways.* The main mechanism is via the inhibition of NF-kappaB which is commonly overly activated.*

---
Three (3) capsules two (2) times each day as a dietary supplement or as otherwise directed by a healthcare professional.
Listed Active Ingredients:
Proprietary Blend of Curcuma Longa (emulsified root extract† and rhizome power), Boswellia (Boswellia serrata) (gum) (extract), Propolis, Green Tea (Camellia sinensis) (leaf) (extract), Ginger (Zingiber officinale) (rhizome) (extract), Rosemary (Rosemarinus officinalis) (aerial part) (extract), Celery (Apium graveolens) (seed) (extract), Alpha-Lipoic Acid, Trans-Resveratrol, Phytolens® (Lens esculenta) (extract) (husk), Bioperine® (Piper nigrum) (extract) (fruit) †Phytolens® is registered trademark of Biotics Research Corporation. U.S. Patent # 5,762,936. ‡Bioperine® is a registered trademark of Sabinsa Corporation.
Listed Other Ingredients:
Capsule shell (gelatin and water), cellulose, silica and magnesium stearate (vegetable source).
Product Warnings:
ALLERGY
This product is contraindicated in an individual with a history of hypersensitivity or allergy to any of its ingredients.
PREGNANCY

If pregnant, nursing, or trying to conceive, consult your health professional before using this product.Product was made and manufactured in the USA.
---
*These statements have not been evaluated by the Food and Drug Administration.This product has not been evaluated by the Food and Drug Administration. This product is not intended to diagnose, treat, cure, or prevent any disease. If you are pregnant, nursing, taking medication, or have a medical condition, consult your physician before using any supplementation or product. The Federal Food, Drug, and Cosmetic Act gives authority to the FDA to regulate commerce of drugs and supplements.According to this act, only drugs can claim to cure, prevent, mitigate, or treat a disease.Nothing else can make this claim.Any food or supplement purchased from Move Forward Natural Health does not cure, prevent, mitigate, or treat a disease.
Save this product for later